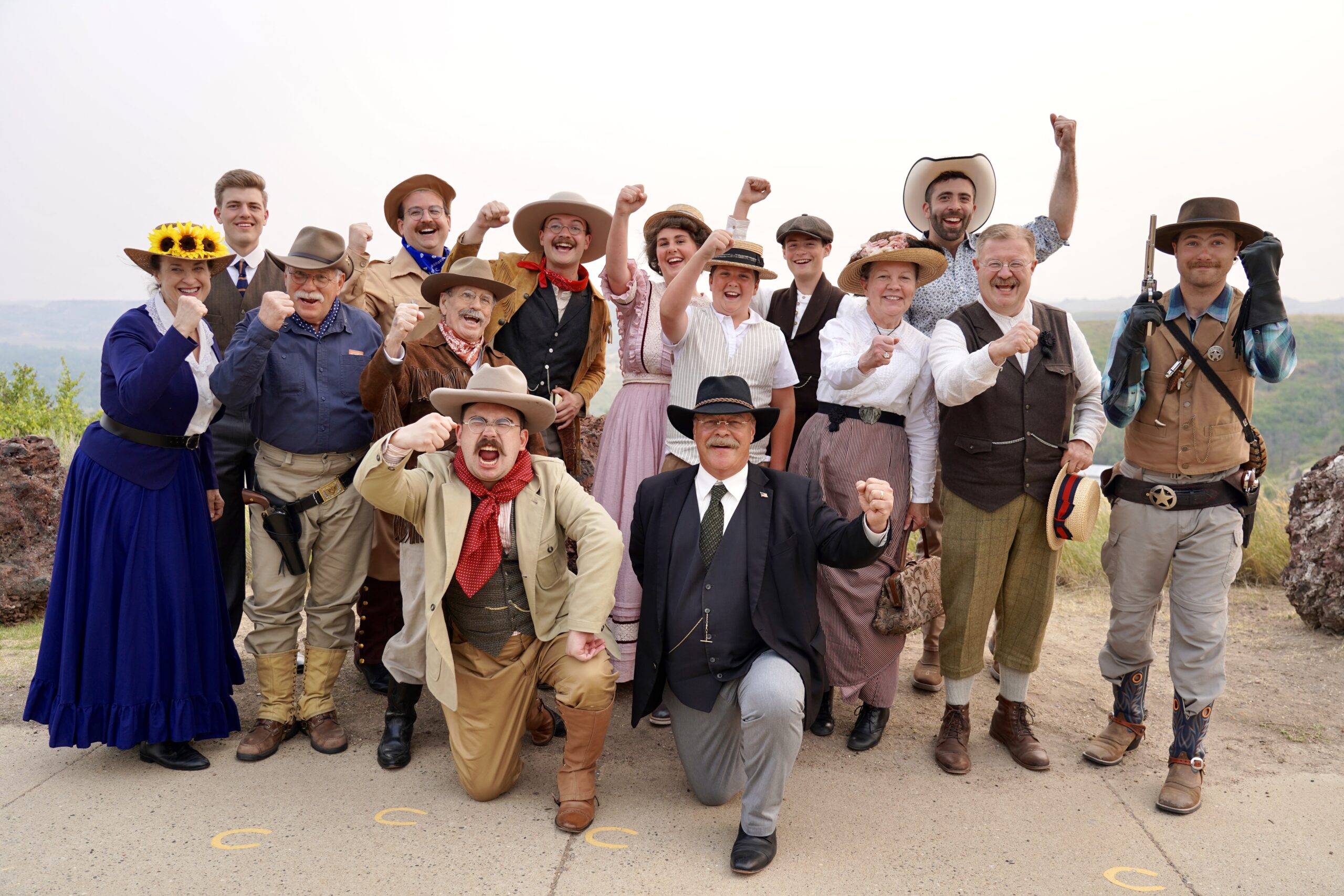 20 Jul

Into the Teddyverse: Badlands Chautauqua Brings Even More Living History To Medora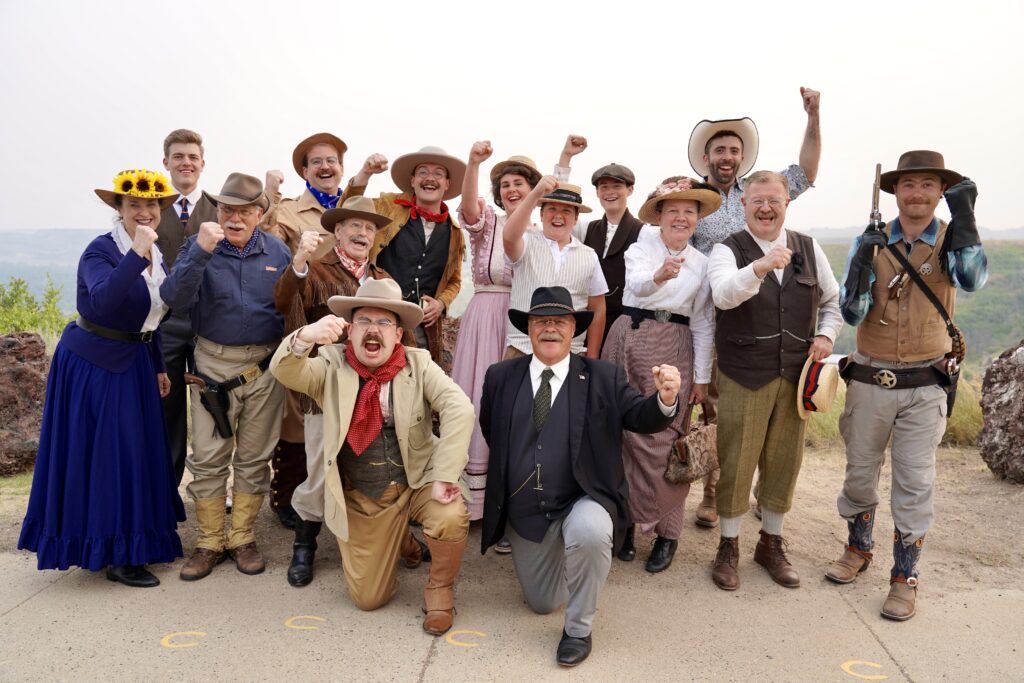 If you visited Medora during the third weekend in July, you might have found yourself seeing double.
Or triple… or quadruple… or more!
The tenth-ever Badlands Chautauqua – a Gathering of Roosevelts – was held over the course of three days in July. It brought living history reprisors to Medora to share their talents, hone their craft, and entertain the traveling public.
The name "Chautauqua" refers to Chautauqua, New York, where a movement began to host cultural and educational entertainment gatherings across rural America in the late 19th and early 20th centuries. Eventually certain communities became famous for hosting "Chautauquas" dedicated to certain subjects. Theodore Roosevelt called the Chautauqua "the most American of American institutions."
"I identified some sixty Theodore Roosevelt reenactors around the country," said Joe Wiegand, Medora's resident TR reprisor. "Ten years ago, we decided to invites these other men who portray Roosevelt to the Badlands. They need to get the Little Missouri River in their veins. They need to watch the sun set over a butte. They need to walk the grasslands of the Elkhorn Ranch. That's why we gather each year."
Reprisors come from around the country, and from varied backgrounds and levels of experience. Marty Jonason, an acting coach in Fargo, first embodied the role of Theodore Roosevelt in Medora in 1964, as part of Old Four Eyes, the production that preceded the Medora Musical at the Burning Hills Amphitheatre.
"He had bad eyesight; I have cataracts. He was a bad speller; I'm a bad speller. I was born to play this role," he said with a laugh.
Jonason said he's grateful for the chance to share a lifetime of theatre experience with his fellow reprisors. "It's invigorating. I like helping people move forward. Many reprisors have not have schooling in theatre, so I try to simplify it for them and help them reach into the character."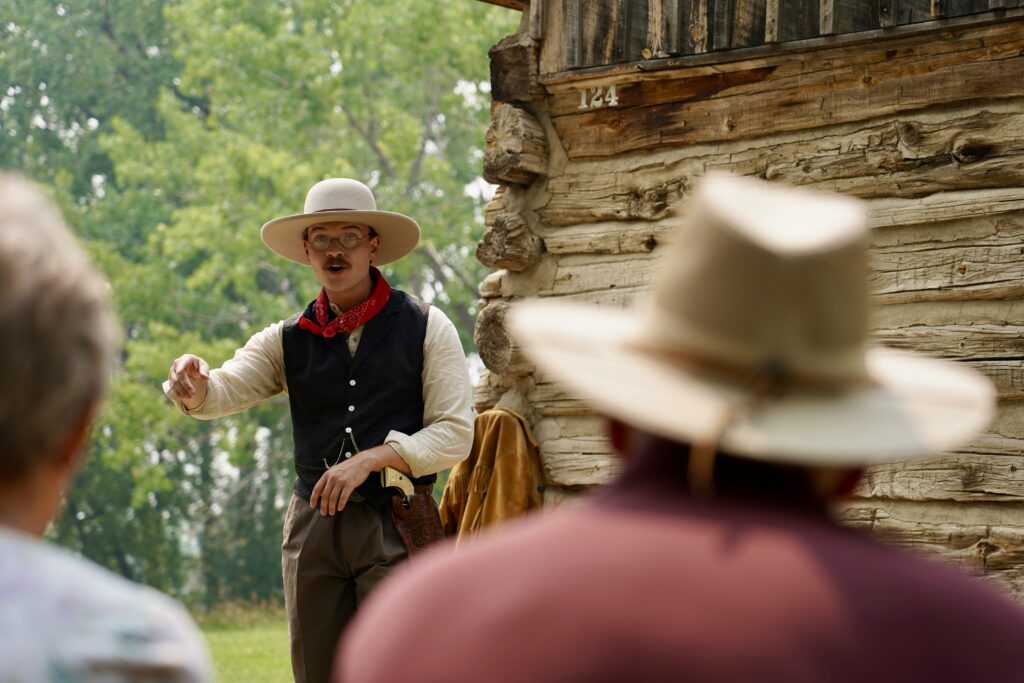 19-year-old Nolan Reynolds caught the TR bug last year.
"I worked for the Theodore Roosevelt Nature and History Association at the National Park last year," he recalled. "I was working one day behind the desk when Larry Marple [who is in his tenth year portraying Roosevelt in Medora] came up to me and said, 'You know, you look a lot like a young Theodore Roosevelt!' I did have the mustache at the time."
He made his debut days later at the 2022 Badlands Chautauqua – and now Reynolds portrays him twice each weekday for visitors at the South Entrance to Theodore Roosevelt National Park.
"I've gained a wealth of knowledge from this community of Roosevelt reprisors," Reynolds said. "I mean, I live four blocks away from Joe Wiegand! There have been times when I'm at his door bombarding him with questions."
Another young reprisor, 27-year-old Austin Artz, has spent several years in the shoes of Theodore's son Quentin Roosevelt. In 2018, he traveled to France with Joe Wiegand, where the duo performed on the centennial anniversary of Quentin's death fighting for France in World War I.
He described the process of historic reprisal this way: "You take the person and you put their mantle around your shoulders."
"Anybody can sit and do historical research," he continued, "but once you see the humanity – not just the historic facts from 100 years ago, but the person's humanity – you can step away from the facts and begin to recreate the persona."
Wiegand says his time with young reprisors like Reynolds and Artz is well spent. "You might think I'm mentoring them – but it's just as often the other way around," Wiegand said. "I am learning so much from these young people, and I'm inspired by their passion for the new discoveries they're making about TR."
In 2022, the full weekend of living history extended beyond Roosevelt roles. The Badlands Chautauqua also brought Donna Sewell Davidge, the great-granddaughter of Mary and William Sewell, to Medora. William Sewell was a lifelong friend of Theodore Roosevelt who went on to design and manage his Elkhorn Ranch in the 1880s.
Some 140 years later on stage at the Old Town Hall Theater in Medora, their great-granddaughter Davidge performed her one-person play X: the story of her great-grandmother Mary Sewell's life.
"The concept is to feature the woman behind the man," she said. "Anyone who knows Theodore Roosevelt's life intimately knows about William Sewell. But Mary was there too! She came out to Medora. She nearly died in childbirth here. And their life was interconnected with Theodore Roosevelt in a fascinating way."
Davidge's performance was met with a standing ovation from the audience in Medora. And for Joe Wiegand, it was yet another example of the stirring power of living history.
"'One of life's greatest rewards,' Theodore Roosevelt said, 'is the opportunity to work hard at work worth doing,'" said Wiegand. "I believe I was knitted together to do this work. And I believe our participants and audience members at the Badlands Chautauqua are going back to what they do day in and day out with a little more wind in their sails."
Because, in Wiegand's experience, the more that he and others can share about the life and lessons of Theodore Roosevelt, the better."
Just like we need more cowbell, we need more Theodore Roosevelt," he said.
Thank you to Laura & Bob Spolum for creating the TR Living History Endowment in Medora, which helped fund this event. We also thank the State Historical Society of North Dakota and Humanities North Dakota for supporting the Badlands Chautauqua.