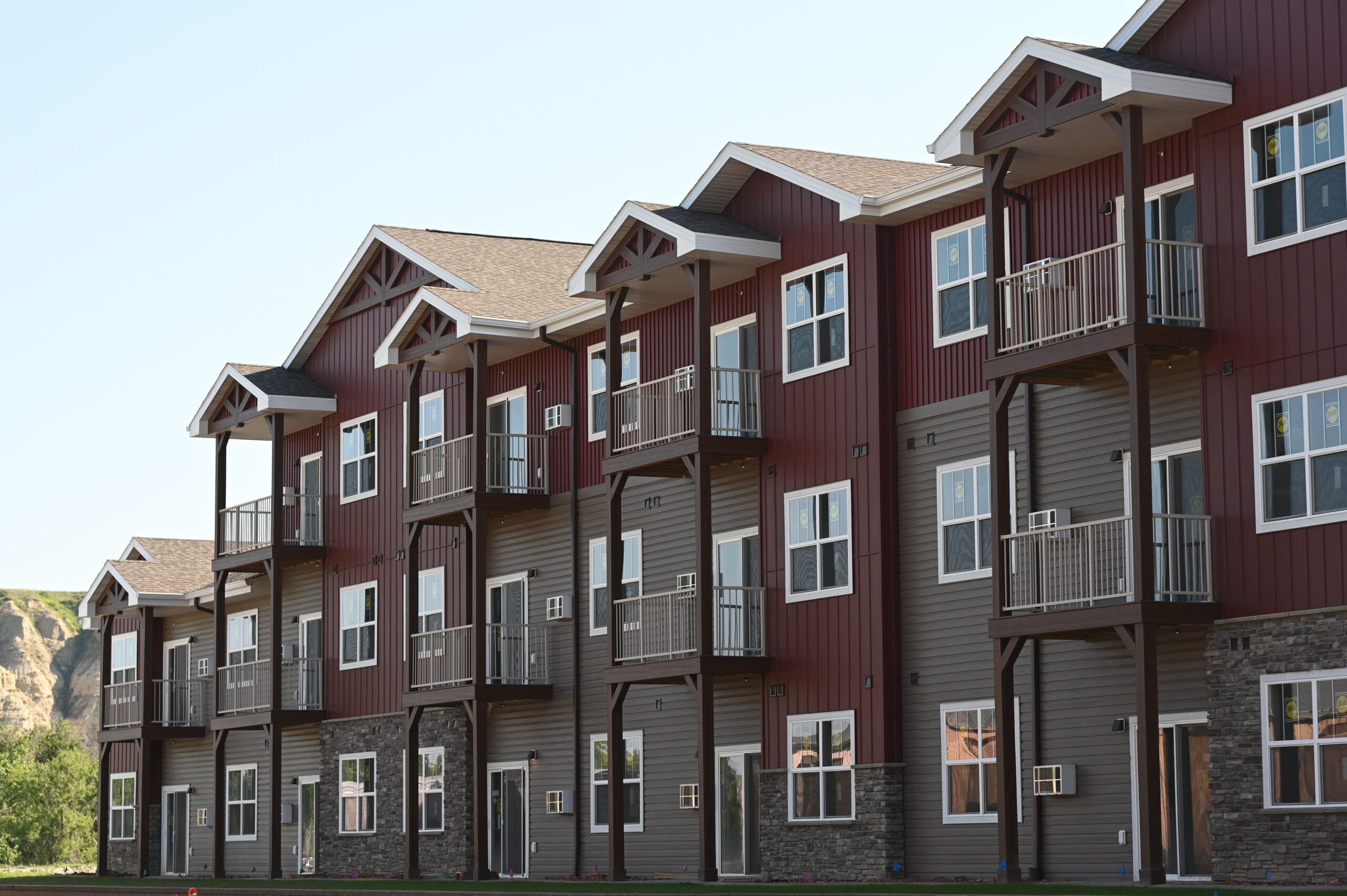 08 Mar

Wild Horse Place Apartments: Employee Housing for Medora's Bright Future

Construction on the Wild Horse Place apartments has progressed through the winter and is on track to be completed this June.

"We have about 20 units committed to be occupied right now and working towards marketing the last 12 units so that when construction is complete, we have a full building to welcome workers to Medora," said TRMF Chief Operating Officer Clarence Sitter.

Contractors have been working through the cold and snow to complete the 32 unit building that will be occupied by several TRMF employees, National Park employees and other individuals wanting to live in Medora.

"Housing is important because quality of life is important," Sitter said. "We have people who are passionate about providing our guests with positive, life-changing experiences. It's important we provide them with a good place to live and help them be a part of the community of Medora."

Wild Horse Place has a combination of 1-, 2- and 3-bedroom units throughout the building.

TRMF employees say it's a game-changer to have secure, available, affordable housing in Medora.

"Wild Horse Place is an exciting opportunity to finally have adequate living space here in Medora," TRMF System Administrator Anthony Olson said. "Before it was a challenge finding housing that was close-by that wouldn't involve increased driving expenses and living expenses."

"I think it is crucial to building a love for Medora by living in Medora and experiencing it in everyday life instead of only being in town during the workday and then leaving again," said TRMF Park and Recreation Manager Andrew Coe. "It is an invaluable benefit to me and other employees alike!"

Permanent housing has long been identified as critical for Medora and the TRMF Board of Directors approved the project in November of 2021.

Competition for labor in the hospitality industry is fierce and Wild Horse Place fills a need and is essential for Medora's future and is the final piece to a $25 million campus that began in 2008 and includes the Spirit of Work Lodge, Life Skills Center, and Elkhorn Quarters.

Together, these building centralize employee training, education, dining, fitness, and recreation and provides significant parking to relieve pressure from the downtown area of Medora.