20 May

Volunteers Refresh the Medora Children's Park
May 20, 2022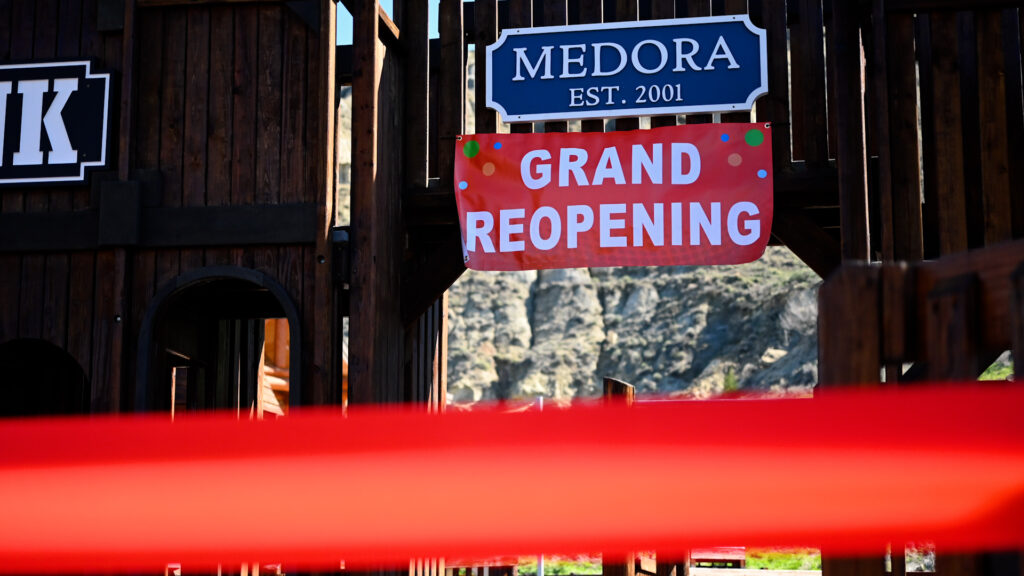 For Charles Cullen, spending an afternoon in Medora raking rubber mulch meant coming full circle.
"My wife and I were here 21 years ago helping build this," the 87-year-old said of the Medora Children's Park. "It's been well used over the years. I'm just thankful that my physical condition is such that I can still do this."
Cullen was one of about 75 volunteers who spent Saturday, May 14th, 2022 breathing new life into the Medora Children's Park – which was built by volunteers over the course of five days in 2001.
Bob Holzer was there in 2001, too. This time, he said, "I feel older! But it's a happy feeling."
The wooden playground received a fresh coat of stain and about 70 tons of recycled rubber mulch – a softer, safer material underfoot for kids using the park. The volunteer crew, which included the President of the Theodore Roosevelt Medora Foundation, Randy Hatzenbuhler, applied plenty of elbow grease to get the work done in a day.
"We were joking about the amount of ibuprofen we'd need after that!" Hatzenbuhler said. "But not one person seemed to complain about any of it. In fact, the coordinator of the project, Peggy Gunther, said they're all asking, 'What's the next project?' Every organization should be able to experience that – when people care that much."
"You don't get to experience this kind of goodwill every day," Gunther said. She serves the TR Medora Foundation as Director of Volunteer Activities.
Bravera Bank brought a team of about a dozen employees out for the volunteer event. The bank made a generous contribution to TRMF to make the renovation project possible. "We're bankers, right? So we don't usually work with our hands much!" said David Ehlis, the President and CEO of Bravera, who also cut the ribbon on the park at a grand reopening ceremony. "It's great to be able to help the community."
Gunther says events like this — and the hundreds of people who volunteer their time and energy to help the TR Medora Foundation operate during busy summers — inspire her. "This is what humankind is really all about. You work side by side, you have fun, you treat each other with kindness and goodness, and you make it happen."
The Medora Children's Park is located in downtown Medora, and is free and open to the public every day from sunrise to sunset.