24 Jun

World-Class Performer Emily Walter To Lead Refreshed Gospel Brunch

(Medora, ND) – After a career of singing all over the world, the "Queen of the West" is making a home in Medora—and preparing a refreshed take on the Medora Gospel Brunch this summer.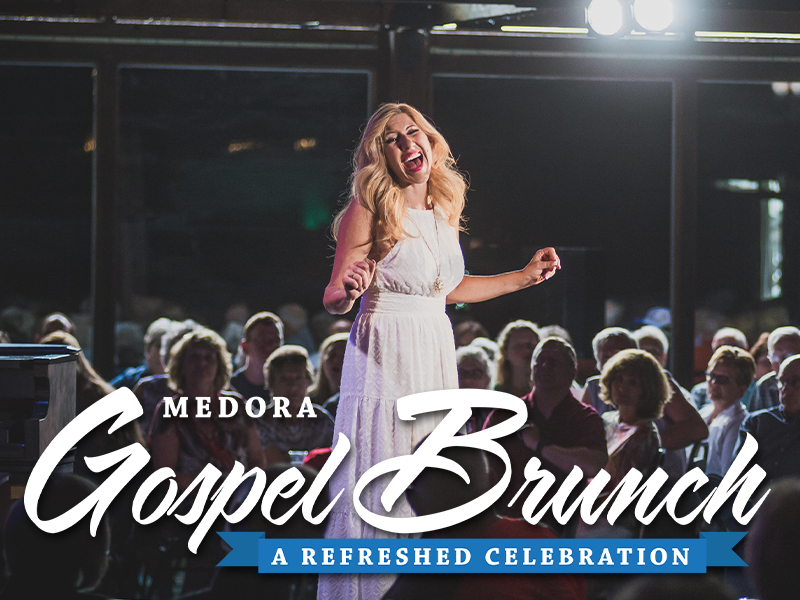 The smash-hit Gospel Brunch, hosted by world-class vocalist and actor Emily Walter, will feature new gospel songs and stories in 2021, as well as old favorites—all paired with a terrific brunch experience of breakfast meats, egg bakes, and more.
"The Gospel Bunch has been one of my very favorite shows to perform in my entire career," Walter says. "I'm very excited to host it again. It's a joyful way to start the day, and I'm looking forward to a busy and safe summer season."
Walter's career in Medora has spanned decades. She first came to Medora as a Burning Hills Singer in the 1990s. Her stirring renditions of Patsy Cline songs led to opportunities to perform across the United States and the world. She found her way back to Medora in 2010—and she's been dazzling audiences with her talent and warmth ever since.
"This is a project that Emily believes in," says Curt Wollan, the director of the Medora Gospel Brunch, "and it's proven to be a real success with the Queen of the West as our host."
New and returning guests will find something to love at this year's refreshed experience, which will explore how country music superstars like Johnny Cash and Dolly Parton started their careers in the world of gospel music. "No matter where you sit on the 'gospel fence,' there's something here for you," Wollan says. "Whether you grew up singing these songs, or if you just want to learn the history of gospel music, the Gospel Brunch is for you."
Walter will be joined in the Town Square Showhall by a star-studded cast of familiar Medora Musical faces: Taylor Leet, Jessica Bradish, Kevin Korczynski, and J'Kobe Wallace, as well as a three-piece band. Former Medora Musical co-host Bill Sorenson will also deliver an inspiring interlude message.
Tickets are on sale now at Medora.com.
LINK: Promotional photos and videos of the Medora Gospel Brunch
###
TRMF CONTACT:
Tim Olson, Foundation Communications Specialist
Theodore Roosevelt Medora Foundation
(701) 720-5904 / [email protected]